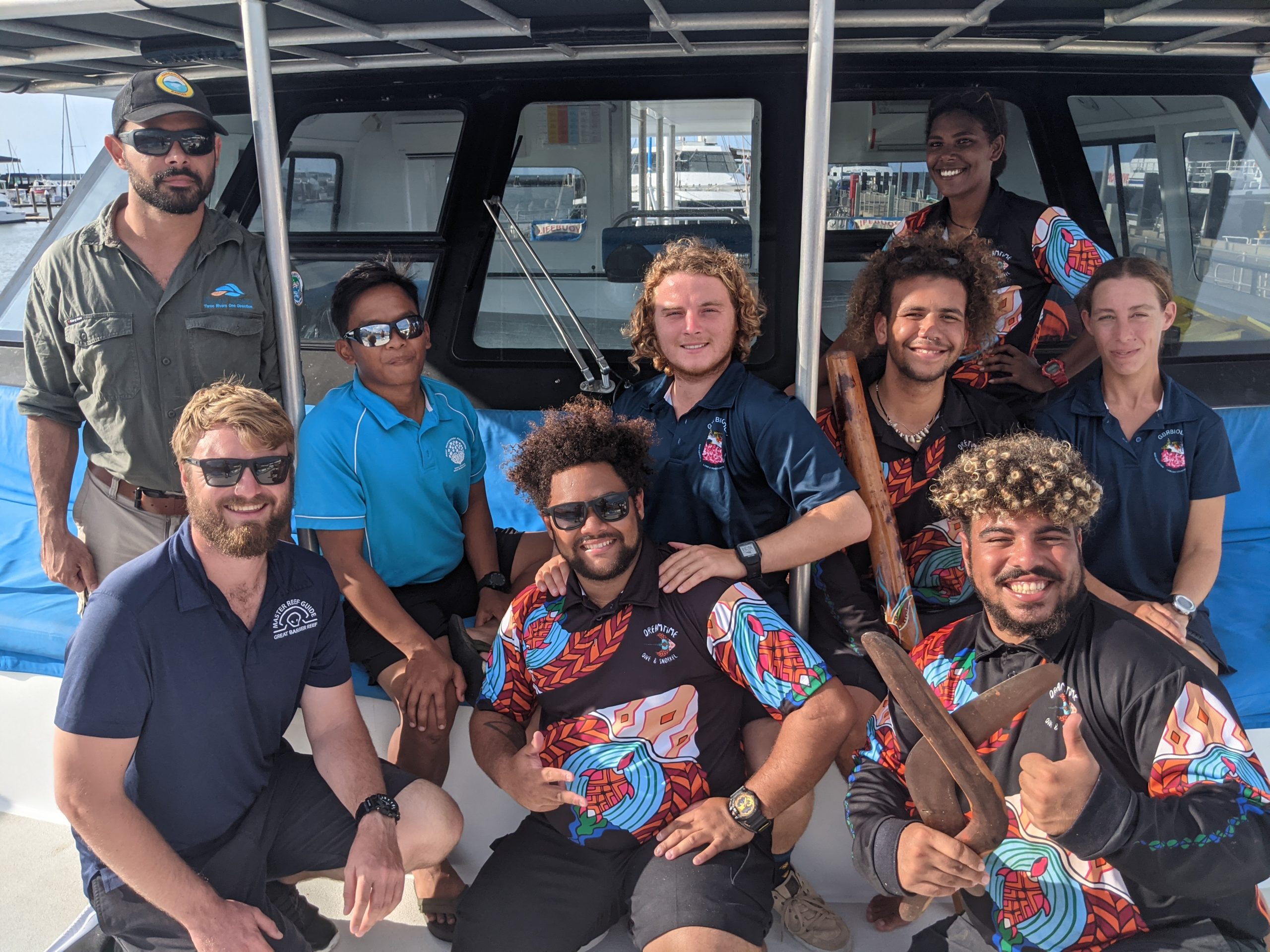 Kul-Bul team aboard Dreamtime Dive and Snorkel. Kul-Bul project involves Yirrganydji Land and Sea Rangers, GBR Biology Marine Biologists and Reef Restoration Foundation.
Kul-Bul (Spirit of Sea Country)
Kul-Bul is a holistic approach to monitor and evaluate coral reef health from combining recent modern scientific reef health data collected by our team with 60,000 years of Indigenous Ecological knowledge. The purpose is to create a functional decision tree to develop comprehensive site stewardship plans to manage Yirrganydji Sea Country at Indigenous tourism sites visited by Dreamtime Dive and Snorkel. We have identified Hastings Reef as a Reef of cultural and socio-economic value and plan to deliver reef intervention techniques to boost coral reef resilience at this important reef. This project is a collaboration between Dawul Aboriginal Corporation, GBR Biology and Reef Restoration Foundation and the pilot study was funded by the Australian Government Reef Trust Partnership (2021-2022).
In 2022 the Kul-Bul has been proposed to scale up and develop on Gunggandji Sea Country which includes Moore Reef and other Reefs such as Flynn, Thetford and Milne visited by Dreamtime Dive and Snorkel.
To Aboriginal and Torres Strait Islander peoples, "country" is not only a place of belonging, but also a way of believing. The term "sea country" isn't just referring to a geographical area, it includes all living things, beliefs, values, creation stories, spirits and cultural obligations associated with it.